BIOGRAPHY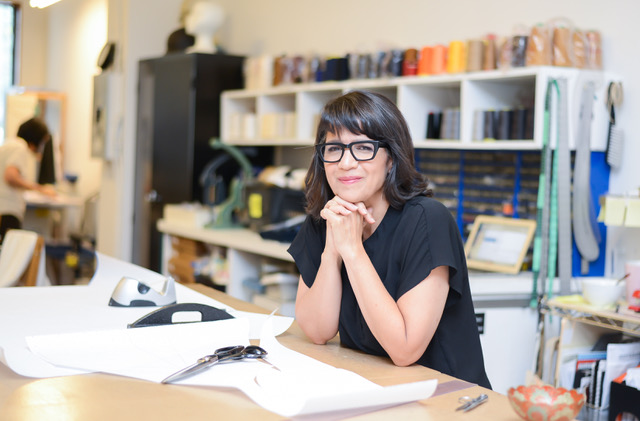 Tara West for FAJO Magazine
Izzy Camilleri is one of Canada's most innovative and celebrated fashion designers, and has built a strong reputation designing high fashion for over 39 years. Her designs have been featured in countless publications, such as Vogue, InStyle, Harper's Bazaar, Elle, and Business of Fashion.  
Many A-list celebrities have worn Izzy's pieces, including David Bowie, Angelina Jolie, Jason Momoa, and Meryl Streep, to name a few. In 2006, Izzy's eponymous fashion line, Izzy Camilleri, earned her CAFA's coveted Womenswear Designer of the Year Award.
In 2005, a woman living with paralysis came to Izzy looking for some custom clothing that would work with her power wheelchair. Unaware of the clothing challenges people face while living with a disability, Izzy became a sponge, taking in the issues, as well as the lack of options available for wheelchair users. Inspired by this experience, in 2009, Izzy pioneered and launched her most important fashion collection to date. The revolutionary clothing line IZ Adaptive, designed specifically for wheelchair users, has changed the lives of people all over the world and is recognized globally.  
In 2020, Izzy did a TED Talk titled Re Designing Fashion where she shared her fashion journey and how IZ Adaptive was started. In 2022, Izzy was the recipient of 2 awards, one for Innovation from the Women's Empowerment Awards and the other for Fashion Impact from the CAFA Awards (Canadian Arts and Fashion Awards) for her revolutionary IZ Adaptive Collection. She sits on several boards, contributes to fundraisers and charitable events and helps young fashion students where she can.
Today, the adaptive clothing category is growing. Known as the thought leader in this space, many major fashion brands are following Izzy's lead and turning to her for her expertise. Media outlets such as Forbes, The Guardian, LA Times, The Washington Post and many others have done features on IZ Adaptive and the important role Izzy's innovative designs play in helping make the fashion industry more inclusive. Her work has been featured in major exhibits and used for teaching materials around the world. Select  IZ Adaptive pieces are part of Royal Ontario Museum's collection which is Canada's largest museum, She is currently the Style Expert on a new TV show called Fashion DIS, featuring fashion makeovers for people who live with a physical disability and is rapidly growing in popularity globally.
Izzy continues to create pieces that provoke thought and push boundaries.